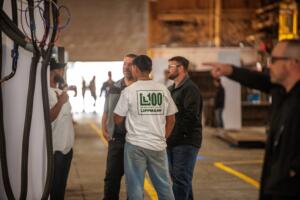 One hundred years in business is a big deal. So when Lippmann recently hit this extraordinary milestone, we held a weeklong extravaganza celebrating our dealers, our employees, and the equipment that has shaped our industry.
Showing Off  Who We Are
Our "official" celebration took place at the Lippmann headquarters on a beautiful Wisconsin fall day. Our seasoned employees, who served as tour guides, led dealers, vendors, and special guests around the grounds. Walking through the shop, guests could connect and talk with Lippmann workers at various stations. They were given explanations of what happens at each station by the team member who actually works at that station.  Informational graphics were displayed to help tell the story.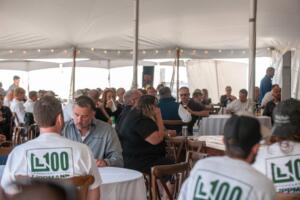 Dealers also had the opportunity to visit our parts and warehouse shipping facility. They toured the facility, met the team, and interacted with people they may typically just see in passing, showing off the personal side of Lippmann.
Outside, our core Lippmann equipment was proudly displayed, including a variety of wheeled plants including jaws, impactors, and cones.
Many Highlights to Savor
Another high point of the event was welcoming some industry VIPs, like the President of Metso, Markku Simula, and Senior Vice President, Materials Processing Products at Metso, Toni Laaksonen. They chatted with Lippmann employees, engaged in worthwhile discussions about our recent changes and improvements, driving home the fact that we will ring in the next 100 years as valued business partners.
Later that day, our outgoing Vice President of Lippmann, Kevin Kiesgen, took the stage and said a few words about Lippmann's storied history. He then introduced the new Vice President, Vesa Tuloisela, passing the baton and connecting a face to a name for our dealers and employees.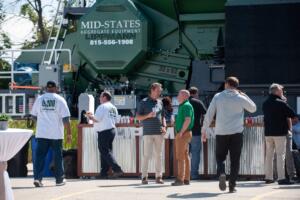 No 100th-anniversary tribute would be complete without a tent with food, drinks, and live music. (Think beer garden vibes with massive machinery mixed in.) While guests enjoyed themselves, they could take in the awesomeness of the Impactor we had open on display. They could also check out Lippmann's business timeline from day one to 100 years later, complete with historical photos. We even highlighted each model bear crushing chamber, with their history, snippets of key info, and showed their evolution through the years in pictures.
We all appreciated taking a step back to look around and be proud of what Lippmann has accomplished over the decades. We will remain profoundly grateful for our dealers and vendors. And we took the opportunity to thank our lucky stars for being able to employ the finest people in our industry. Here's to crushing it for the next 100 years.
A colossal thank you to our sponsors who celebrated our big day with us:
Premier Sponsor: DLL Group
Primary Sponsors: JNB Heavy Haul, TGJ Plant Site Shipping, Timkin
Crusher Sponsors: BOK Financial, Sultzer Machine & Manufacturing, Inc.
Screener Sponsors: Rulmeca Corporation, O'Brien Steel, Ding's Magnetic Group, Air Power International Express Inc.
Stacker Sponsors: Freeman, Hydraulic Solutions of Wisconsin, DRM Industries Corp, Trivera Interactive, Inc.